Lajos Szabó, who thought in words, and drew not out of passion but with the strength and impulse of his composure, was a committed follower of progressive artistic and social movements. So it was natural for him to join Lajos Kassák's Workshop Munka-kör in 1928. Being unable to compromise on principles, he left in 1930 to found the "oppo", the oppositional movement, taking with him some 50 members including the subsequently famous Robert Capa. The intellectual leaders of the movement were Szabó, Pál Justus, Pál Partos, Andor Szirtes, Béla Tábor and Károly Heinlein. This movement, based on the "intransigent" Marxism of Karl Korsch ("imported" by Szabó and Partos, who held theoretical discussions with Korsch in 1931) had "antiorganisation" as one of its mottos: a position opposing all institutions and institutionalization to which Szabó adhered until the end of his life. He often used the sign AO, for AntiOrganisation, to sign his calligraphies. This sign later became a visual symbol in his work.
During this time, he also met the thinker Béla Tábor, becoming friends and collegues for life. In the spirit of self control, a tenet of AO, they travelled the route from Marxism through Freudism to Nietzsche and existentialism, arriving at the dialogical position held by Franz Rosenzweig and Martin Buber, both Jewish, and Ferdinand Ebner, a Christian. They were also deeply influenced by Plotinus and the speculative mysticism of Meister Eckhart and Jacob Böhme. (For more information about the joint work of Szabó and Tábor click here) In 1936, Szabó and Tábor wrote the essay Indictment against the Spirit from this standpoint, timed to appear for the Budapest conference of the League of Nations Committee on Intellectual Collaboration. According to them, the precondition of Intellectual Collaboration is the removal of the Chinese Walls which separate the autonomous islands of intellectual life from each other on the one hand, and the intellectual elite from the masses on the other. Therefore they sharply criticise the most influential philosophical movements of their time, which they all deem to be based on autarky: Marxism (and its subdiscipline Fascism), psychoanalysis, positivism and sociology, reserving praise for existentialism only.
1937 saw the appearance of the single issue of Habonim,a Jewish intellectual magazine, with a front page by the artist Lajos Vajda, who Szabó had befriended earlier in Paris, and a lead article by Tábor. Szabó's piece in the magazine was entitled Addenda to a critique of Marxism. The same year he also published the pamphlet The logic of faith. (For the section "Sign and image" click here.)
In 1944, Szabó was deported to Auschwitz. He survived. Returning to Budapest, in 1945 Szabó, Tábor and the thinker Béla Hamvas began the "Thursday conversations" at the apartment of Tábor and his wife, the art historian Stefánia Mándy. At the same time, Szabó started giving seminars on psychology, the critique of set theory. He called his way of thinking and prismatics, in which the One Spirit shines through the triple prism of Esthetics, Ethics and Logics, characterised therefore by unity of Esthetical, Ethical and Logical evaluation.
He read extensively; the signs he used to mark the margins of the books he was reading led, via an organic process of spritual-intellectual concentration, to his calligraphy. At his first exhibition, held at a Budapest apartment, Hamvas exclaimed "Lajos managed to break through again!"
Szabó left Hungary in 1956, eventually settling in Germany. During his years in exile, calligraphy became the main focus of his creative activity. He exhibited in the Palais des Beaux-Arts in Brussels in 1957 together with Lajos Vajda, his fellow artist Endre Bálint, and the artist and architect, later situationist, Attila Kotányi. Between 1958 and 1966, he had further exhibitions in Brussels and several German cities. His works can be found in a number of museums and private collections around Europe.
Ágnes Horváth
1 June 1902: Lajos Szabó is born into a lower middle class family, a youngest child with a sister and two brothers
1919 - he is expelled from the Trade School
1928-1930 member of Lajos Kassák's Workshop Munka-kör
Contributes two articles to Kassák's periodial Work (one jointly Pál Justus). He meets Karl Korsch
1930 - conflict with Kassák, the Hungarian opposition "oppo" founded.
Two photographs taken at "oppo" excursion from the 1930s
(1. Lajos Szabó; 2. from the right: Béla Tábor, Lajos Szabó, Andor Szirtes, ?, Stefania Kohn (later Mrs. Szirtes), Zoltán Kellerman, Capa, Imre Kelemen, Gábor Bíró: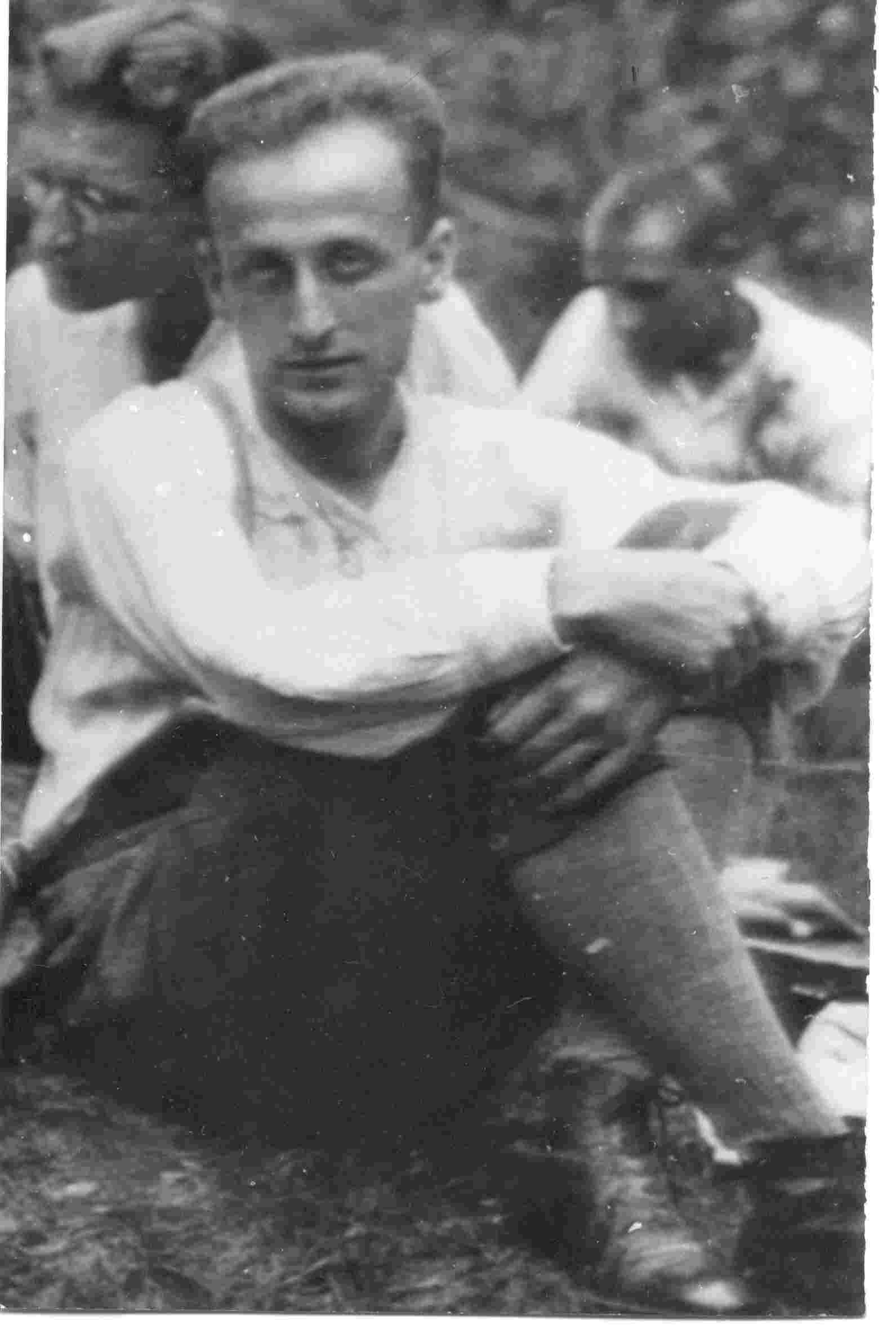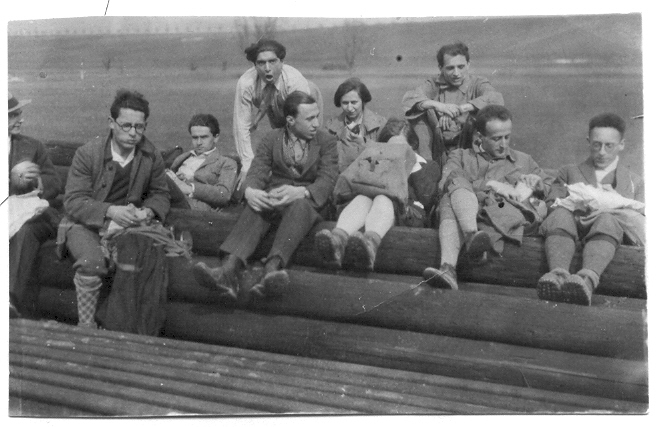 1931-32 - stays in Berlin and Frankfurt for several months
In Frankfurt, studies at the Institut für Sozialforschung
1933-34 - trips to Vienna and Paris (in Paris, he shares a flat with Lajos Vajda)
Vajda's photomontage with a picture of Lajos Szabó
1935-37 - he marries Klára Bálint, the sister of the artist Endre Bálint
1936 - Indictment against the spirit (with Béla Tábor)
1937: The logic of faith
1937-38 - Contributions to the questions of set theory
1938 - he marries Magda Pallos
1940 - he is called for labour service, but he gets discharged in a matter of weeks on account of his TB
From May 1941, spends several months with his TB in the New St John Hospital in Budapest (alongside Lajos Vajda)
1941-43 - Bible and romanticism
Spring 1944: gets deported to Auschwitz.
He survives 1945 he leaves Auschwitz.
His wife returns from the Ravensbrück camp in June
Autumn 1945 - "Thursday conversations" started with Béla Hamvas and Béla Tábor
1946 - the death of Magda Pallos
1946 - Literature and fright;
Art and religion
from 1946 seminars for a young audience on psychology, the theory of values, the theory of signs, prismatics (triple unity of esthetics-ethics-logic), the critique of set theory, language mathesis and the theory of (social, artistic and other spiritual) movements
1954 - the first calligraphies
August 1956: marries Ágnes Polgár
A wedding photo with Béla Tábor: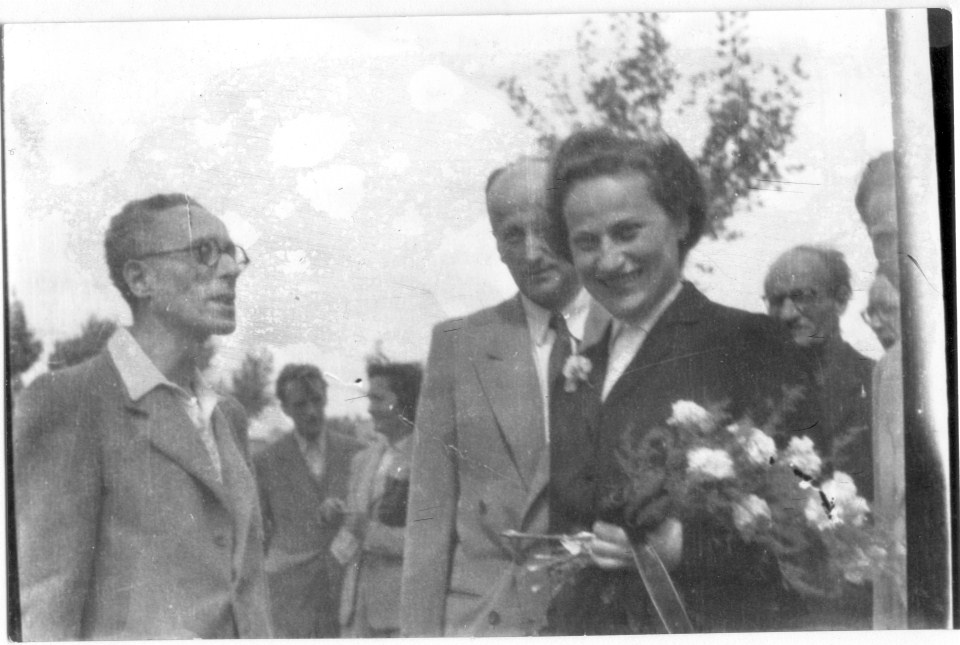 December 1956: leaves Hungary with his wife
Until end 1957: Vienna
December 1957 - 1961: Brussels
1958-60 - exhibitions in Brussels
1960 - tour of Germany, with exhibitions in Munich, Dortmund, Hamburg and Hagen
1962 - he settles in Düsseldorf
Photos from the 1960s


1961, 1962, 1964, 1966 - exhibitions in Düsseldorf, Hagen, Essen, Paris
Szabó Lajos dies on 21 Octover 1967, after a long illness, several strokes and an operation